Founding partners
University of Helsinki and HUS Helsinki University Hospital are the founding partners of iCAN and provide public funding in addition to the Research Council of Finland. iCAN is governed by a Steering Group including a patient representative. Also private partners joining the iCAN Flagship Project consortium participate in its governance in the Extended Steering Board. iCAN is expanding nationally within the Finnish National Cancer Center FICAN anticipated to involve a National Steering Board.
Responsibility of execution is on the Executive Committee and the Scientific Director, Executive Officer, and Data Team Lead as well as subprojects PIs. We also have an international Scientific and Impact Advisory Board and a Patient and Citizen Advisory Board that provide valuable guidance and
expertise.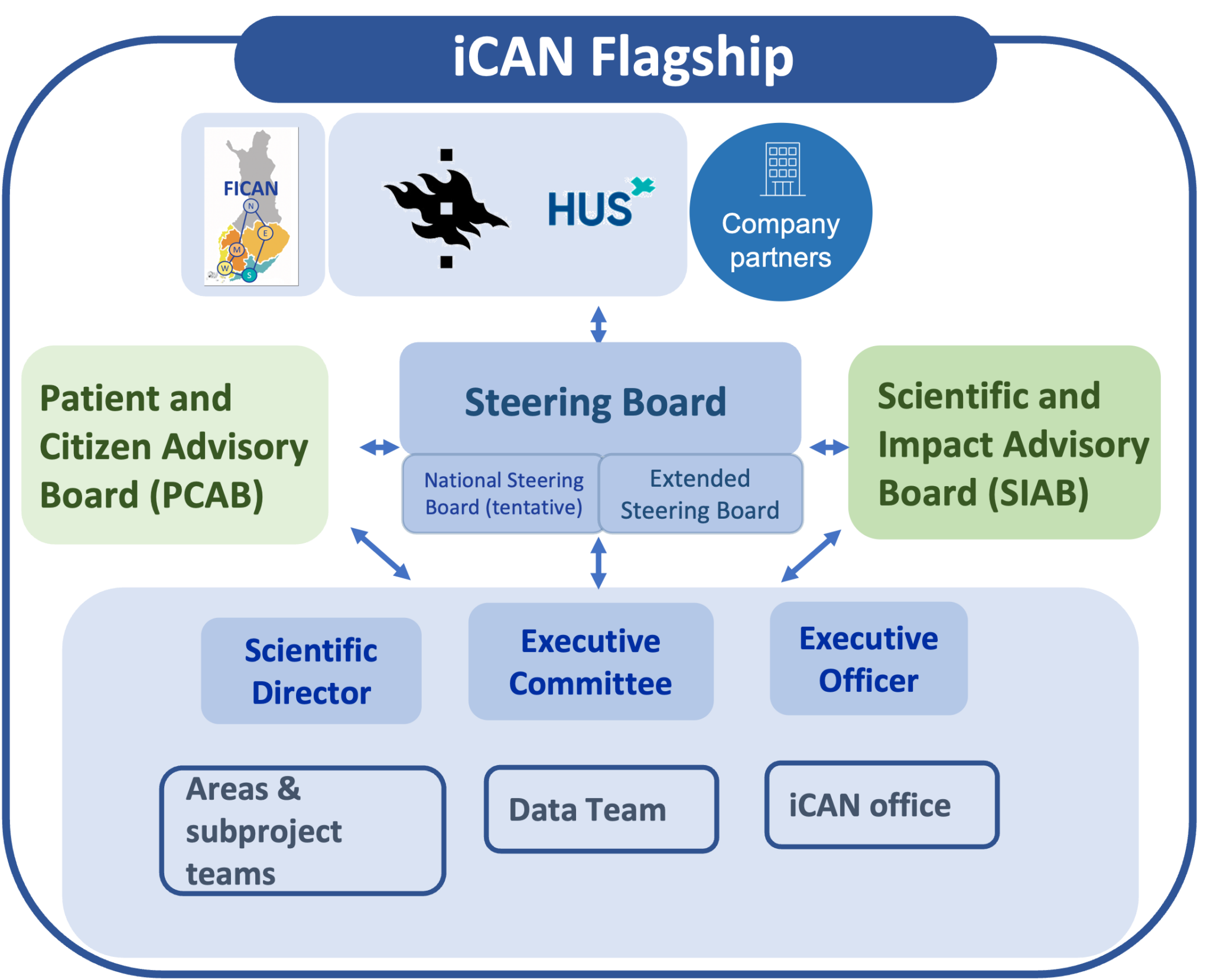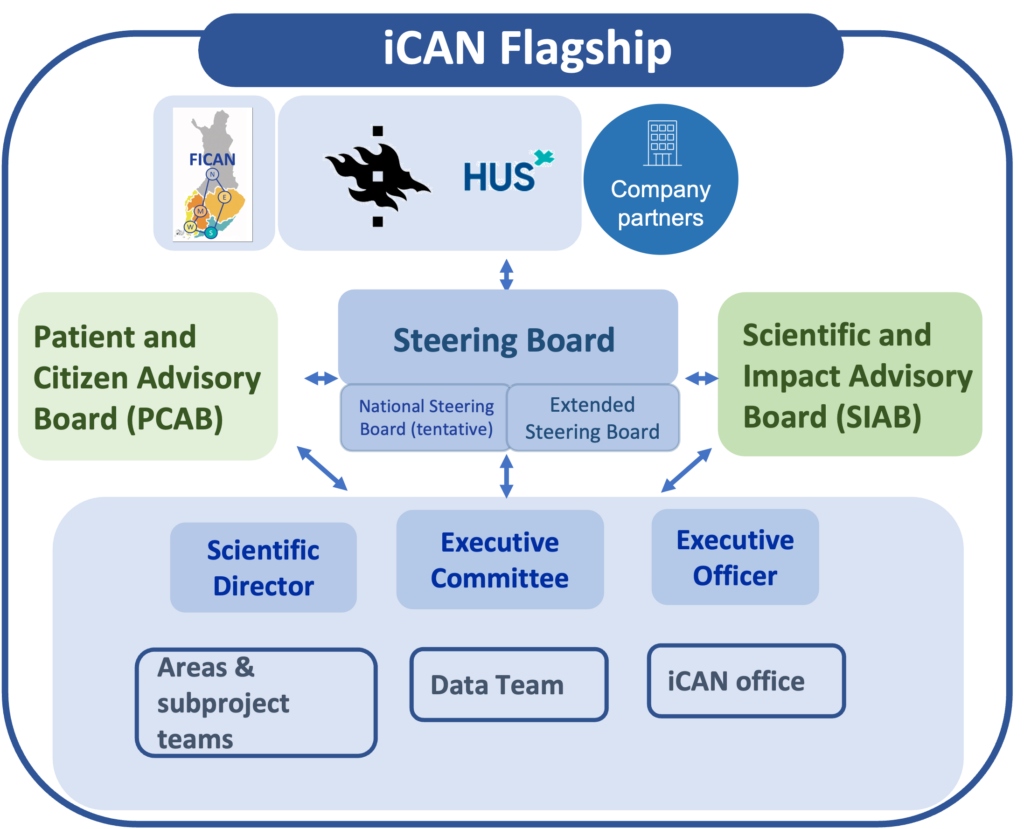 Steering Board
Chair: Vice Rector for Research Anne Remes, University of Helsinki
Vice Chair: Chief Medical Officer Markku Mäkijärvi, HUS Helsinki University Hospital
Members:
Director Jari Koistinaho, HiLIFE, University of Helsinki
Director of Research Taneli Raivio, HUS Helsinki University Hospital
Executive Director Anu Niemi, EuropaDonna Finland
Additional Members in Extended Steering Board:
Aleksei Salnikov, Boehringer-Ingelheim
Executive Committee
Satu Mustjoki, Scientific Director
Tomi Mäkelä, Executive Officer
Esa Pitkänen, Data Theme Lead
Anniina Färkkilä, Translational Theme Lead
Sirpa Leppä, Trial Theme Lead
Vincenzo Cerullo
Tuomas Mirtti
Lauri Aaltonen
Toni Seppälä
Sakari Vanharanta
Caroline Heckman
Scientific and Impact Advisory Board
Jonathan Knowles (Chair)
Chairman of the Access Committee
Genomics England Visiting Professor
University of Oxford
Bettina Ryll
Melanoma Patient Network Europe
Chair of the ESMO Patient Advocates
Working Group, Uppsala Sweden
Francesca Buffa
Professor of Computational Biology and Cancer Genomics
University of Oxford
Steven Myint
Physician, Business Mentor & Investor, Senior Fellow, A*STAR
Board Member on several startups, Chairman, Liquid Biopsy Committee, A*STAR
Pasi Jänne
Director, Lowe Center for Thoracic Oncology
Professor of Medicine, Harvard Medical School Scientific Director, Belfer Center for Applied Cancer Science
Dana Farber Cancer Institute
René Medema
Director of Research
Professor
Netherlands Cancer Institute & Antoni van Leeuwenhoek Hospital
Karin de Visser
Group Leader, Netherlands Cancer Institute
Professor of Tumor Immunology, Leiden University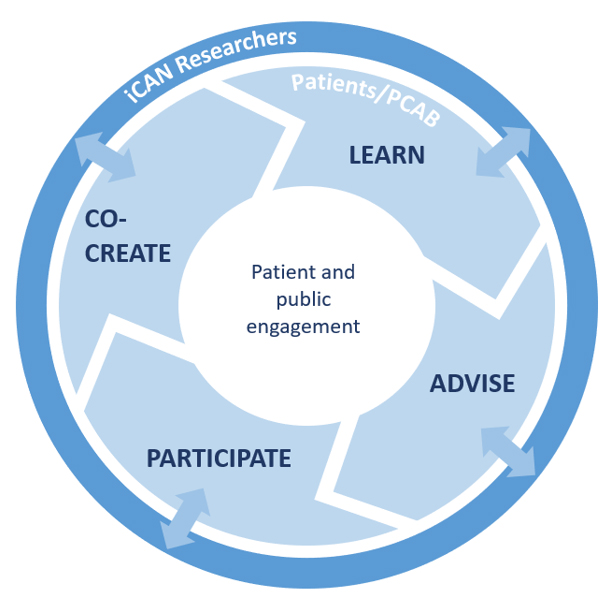 Patient and Citizen Advisory Board
Our Patient and Citizen Advisory Board (PCAB), also known as Potilas- ja kansalaisvaikuttamisen neuvottelukunta (POTKU) in Finnish, is an essential part of this commitment. The board provides a platform for patients and researchers to exchange perspectives and priorities, fostering open dialogue and two-way interaction.
Comprised of ten members based in different regions of Finland, the PCAB serves as a crucial link between the broader public, citizens, cancer patients, patient organization, and iCAN. By representing several cancer patient organizations, they bring a diversity of perspectives and experiences to our work.
PCAB members
Matti Santalahti, PCAB chair
Ida Busk
Tuuli Jokivartio-Toivonen
Sara Lassfolk, PCAB vice chair
Marketta Liljeström
Riikka-Leena Manninen
Katja Tähkä
Aimo Strömberg
Jenni Tamminen
Anna-Liisa Valkama
Learn more about the iCAN team and our exciting work in precision cancer medicine.