New subprojects initiating in the iCAN Flagship Project
The iCAN Flagship Project has taken tremendous steps in 2022 with establishment of the pipeline for prospective sample collection and molecular profiling and establishment of the iCAN Discovery Platform where data analysis takes place in a safe environment.
With the turn of the year another big change is taking place with initiation of the 2nd term of the Flagship Project with refined overall objectives and new host subprojects. The overall aim is to correlate tumor-specific characteristics with the host's response to inform diagnostic and drug discovery efforts using a pan-cancer and large-scale approach. This includes extensive molecular profiling of thousands of samples and integrating this with deep clinical data.
A new element is the grouping of subprojects into thematic areas with shared approaches to facilitate further crossfeed across projects. The "Tumor profiling and preclinical models" theme connects subprojects in which the collection and molecular profiling of high-quality fresh tumor samples is a shared feature. The scientific subprojects under this theme pan from scientific discoveries to clinical implementation.
The "Towards clinical trials" theme connects subprojects which aim to develop new academic innovative clinical trials based on molecular profiling data and more accurate detection of residual disease during treatment and which collect samples within clinical trials aiming to discover biomarkers for response. In addition, early detection of cancer and germline predisposition are covered within this theme. Overall, the goal is to develop best practices, how to implement scientific findings into clinical trials and this overall goal is also closely united with the subprojects in the previous theme.
The "Omics approaches and data platform" theme connects subprojects which aim to develop iCAN data platform and create and implement new innovative approaches to analyze accumulating molecular profiling data. With the help of artificial intelligence, the goal is to improve patient treatment selection and outcome prediction and discover novel drug combinations and impact of tumor microenvironment.
All the subprojects are also connected in data analysis, where all subprojects participate in Discovery Platform management and often also in its development. The unique and rapidly increasing data provides an excellent basis for new applications and approaches for data science.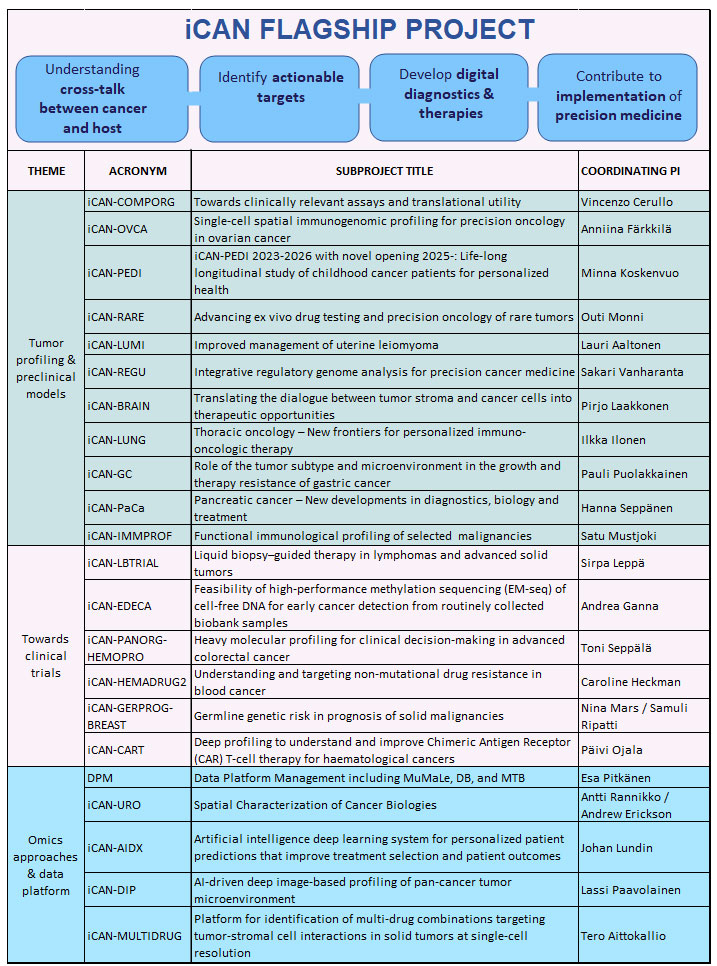 Congratulations to all the new host subprojects!